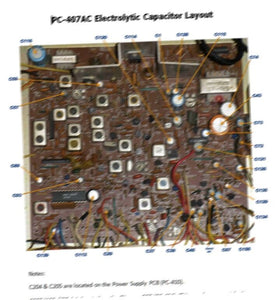 Perfect transaction! fast shipping! awesome!!
Electrolytic capacitor kit for Cobra 1000 / 89 / Teaberry Stalker XII (PC-407AC)
The board number that this kit has been built upon is PC407AC. All of the radial capacitors in this kit are rated at 25v or better, which meets or exceeds those specified by the manufacturer. A higher rated component means that it will last longer in your unit. These are Tier 1 manufactured (Rubycon, Nichicon, Panasonic, Multi-Comp Pro, etc.) components with no counterfeits.  The Cobra 1000 GTL, Cobra 87/89 GTL, SBE Land Command LCB-8, Uniden Zachary T (late model), President Dwight D (late model) and the Teaberry Stalker XII all share the same main board. A link to down-loadable instructions will be provided. This kit includes 35 components in total.

The capacitors will be packed in a thick walled plastic envelope that is nicely labelled. The plastic envelope has a hang hole so that it can be placed on your workbench peg board. This plastic envelope will then be placed in a cardboard re-enforced bubble mailer to make sure it arrives safely at your location. I will also include a label that can be placed inside the radio identifying that new electrolytics have been installed. Restore your radio back to its original glory with the proper kit!
Due to inaccuracies in manufacturers documentation and undocumented revisions by same, this kit may not be a perfect match for your radio. It will be close but there is the potential that your radio may have one of these undocumented inaccuracies of which I am not responsible for supplying any after purchase additions or replacements.

** The buyer is fully accountable for proper installation of these parts. Any damage to a radio due to improper installation is the responsibility of the buyer. **
Payment:
All payment options accepted.
Shipping:
Shipping will be calculated depending on your destination. US destination approx. $7.75 w/USPS Economy, $10.95 for a tracked package. Worldwide destination approx. $22.50 Standard. Canadian destination $19.00 w/Canada Post. Depending on your location in Canada we may be able to get a better rate. Any shipping discounts achieved will be refunded. No insurance or tracking with Economy service. I will combine ship multiple item purchases and refund any remainder.
Sales Tax & Customs Duties:
International customers are responsible for any additional customs duties, charges, or tariffs applied at the time of delivery.