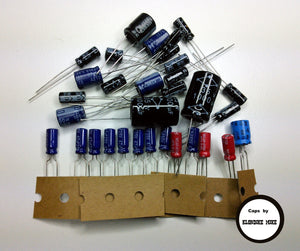 Klondike Mike's cap kits
Klondike Mike's capacitor kits are the best. He provides a great selection and quality service and products for a great price.
Capacitor Kit
Working good well worth the money
CAPACITOR KIT RESULTS.
Very well put together capacitor kit and will outlast the originals according to my Tech. Very good value for the cost of this kit.
Cobra 148 GTL (PC-412)
Item exactly as described and shipped fast !!!...AAA+
Cobra 148 ssb
I am 100 miles from a cb repair shop, I need to be assured that whats going in my old radios is top shelf. I found Klondike Mike in an internet search for a quality capacitor kit and I bought a couple of different kits. This is it folks, buy here. There's Nothing like talking DX on a revived 40 year old radio.
Texas 462
Electrolytic capacitor kit for Cobra 148 GTL & Uniden Grant XL (w/PC-412)

This kit covers the initial Taiwan and later Philippines, 5 pin side microphone units built from 1980 to 1995 using the PC-412AD main board. All of the radial capacitors in this kit are rated at 25v or better, a higher rated component means that it will last longer in your unit. These capacitors are made by tier 1 manufacturers with no counterfeits. A link to a down-loadable parts list will be provided. This kit includes 32 components.

The capacitors will be packed in a thick walled plastic envelope that is nicely labelled. The plastic envelope has a hang hole so that it can be placed on your workbench peg board. This plastic envelope will then be placed in a cardboard re-enforced bubble mailer to make sure it arrives safely at your location. I will also include a label that can be placed inside the radio identifying that new electrolytics have been installed. Restore your radio back to its original glory with the proper kit!

Due to inaccuracies in manufacturers documentation and undocumented revisions by same, this kit may not be a perfect match for your radio. It will be close but there is the potential that your radio may have one of these undocumented inaccuracies of which I am not responsible for supplying any after purchase additions or replacements.
 

** The buyer is fully accountable for proper installation of these parts. Any damage to a radio due to improper installation is the responsibility of the buyer. **


Payment:
All payment options accepted.
Shipping:
Shipping will be calculated depending on your destination. US destination approx. $7.75 w/USPS Economy, $10.75 for a tracked package. Select "Standard" or "Expedited" for a tracked package. Worldwide destination approx. $22.50 Standard. Canadian destination $19.00 w/Canada Post. Depending on your location in Canada we may be able to get a better rate. Any shipping discounts achieved will be refunded. No insurance or tracking with Economy service. I will combine ship multiple item purchases and refund any remainder.
Sales Tax & Customs Duties:
International customers are responsible for any additional customs duties, charges, or tariffs applied at the time of delivery.