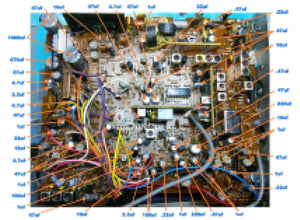 Renewing some old boat anchors
I really appreciate that Klondike Mike's kits have all the electrolytic caps I need to make my old radios new again. They have done all the work for me in selecting the correct capacitors. Thanks again
Always good products
These kits are great and have never let me down.
Full recap
After the recap I have my radio to what it was operating like 30 years ago. It was time for sure. Just ordered 2 more cap kits. One for my Cobra 142 GTL and the second is for an old IC 735. I am hoping to revive both these old radio's as well. I have book marked the Klondike web site. Cheers and 73.
Perfect to get a custom made capasitor kit for my HR2510.
Just that someone is thinking of arranging a capacitor kit for many different radio models.
Is amazing.
Another nice radio is now complete and working.
Good work Klondike Mike's.
Excellent!
Restored my 2510, back to pristine. After changing out the old, amazing what I could here again.
Electrolytic capacitor kit for
President

HR2510 / Lincoln v1 / Uniden

HR2830 (PB-111AB + PB121BA + PB-119AB + PB-117AB + PB112AA)


"Oh My! I can't believe what the competition is selling. You've found the kit that will restore your COMPLETE radio and not only 3/4's of it. Please read on ... "


All of the capacitors in this kit are rated at 25v or better (except for the stock 1000uf @ 6.3v on the PLL PCB which will now be 10v), which meets or exceeds those specified by the manufacturer. A higher rated component means that it will last longer in your unit. These capacitors are from Tier 1 manufacturers with no counterfeits. A link to down-loadable instructions will be provided. This kit includes 75 components for the Main, PLL, FM, L.C.D. and N.B. boards.

The capacitors will be packed in a thick walled plastic envelope that is nicely labelled. The plastic envelope has a hang hole so that it can be placed on your workbench peg board. This plastic envelope will then be placed in a cardboard re-enforced bubble mailer to make sure it arrives safely at your location. I will also include a label that can be placed inside the radio identifying that new electrolytics have been installed. Restore your radio back to its original glory with the proper kit!
Please Note:
The main board (PB-111AB) is the initial Taiwan version. There is a PB-111AE version which is the later Philippines build with 1 less capacitor.
Due to inaccuracies in manufacturers documentation and undocumented revisions by same, this kit may not be a perfect match for your radio. It will be close but there is the potential that your radio may have one of these undocumented inaccuracies of which I am not responsible for supplying any after purchase additions or replacements.



** The buyer is fully accountable for proper installation of these parts. Any damage to a radio due to improper installation is the responsibility of the buyer. **
Payment:
All payment options accepted.
Shipping:
Shipping will be calculated depending on your destination. US destination approx. $7.75 w/USPS Economy, $10.95 for a tracked package. Select "Standard" or "Expedited" for a tracked package. Worldwide destination approx. $22.50 Standard. Canadian destination $19.00 w/Canada Post. Depending on your location in Canada we may be able to get a better rate. Any shipping discounts achieved will be refunded. No insurance or tracking with Economy service. I will combine ship multiple item purchases and refund any remainder.
Sales Tax & Customs Duties:
International customers are responsible for any additional customs duties, charges, or tariffs applied at the time of delivery.